The cleanliness of your home matters to you but don't have enough time to take care of the housekeeping? As most couples who work away from home, it can be difficult to find the time – and especially the energy – for housekeeping, shopping and spending quality time with your family.
When you call the professionals of Ménage-Aide, you get a worry-free service because you do not have to worry about the quality and safety of the franchisees. We provide our own equipment and products and are also covered by a liability insurance that protects you in the event of breakage which may occur during our visit.
The competitive price of a visit from Ménage-Aide may vary from $50 to $100 depending on the area to be maintained, based on bi-weekly visits. We can also serve you weekly or every three to four weeks.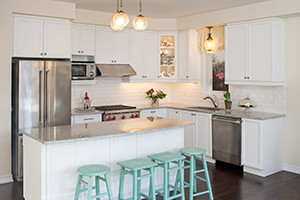 The kitchen
Outdoor maintenance of household appliances:
Refrigerator
Cooker
Dishwasher
Microwave
Cleaning :
Sink, counters and accessories
Stains on cabinet doors
Floors
Bathrooms
Maintenance:
Bathtub
Shower
Ceramics
Toilet
Sink (s)
Counters and accessories
Mirrors
Floors
Vacuuming
Floors
Stairs
Carpets
Rugs
Upholstered furniture
Damp mop
Cleaning and dusting
Mirrors
Stains
Finger marks on door frames and switches
Skirting boards
Vertical and horizontal surfaces
Top of frames
Lamps
Heaters
At each of your home maintenance visits, we invite you to share your appreciation of the quality of our service. Our franchisee certifies having executed the work plan according to the norms and standards of Ménage-Aide . 
Download the Quality control sheet (PDF)
Entrust us with your housekeeping! Ménage-Aide is a Quebec company established in 1983 and recognized as an industry leader. We instigated the concept of housekeeping franchise in Quebec for residential, regular housekeeping visits.
Join our thousands of happy clients! Call us now for a free quote and no commitment to sign. We will be happy to meet with you without any obligation on your part.
A simple call is enough to end the chore of the housekeeping!
Large housekeeping - Special Works :
We have specialized teams in big-house that offers you cleaning services such as:
Window cleaning
Wash walls and ceilings
Cleaning blinds with ultrasound
Carpet and upholstery cleaning with truck factory